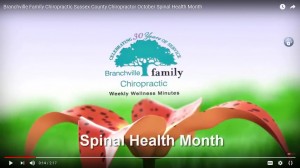 October National Spinal Health Month is coming to a close for 2017
I had a practice member comment yesterday, "I don't know how anybody
can live without getting adjusted."
Dr. Kim and I, and every chiropractor we know have often thought the
same thing. In fact, we used to give out buttons that said, "Subluxated
people don't know the difference."
When you are living life with nerve system interference, you don't know
how different your life and health could be without it.
Because your brain and nerve system control the functions of every
tissue, organ and system of your body, nerve interference results in a
body functioning at less than its full potential.
The more significant and long-lasting the interference, the more detrimental it is to the quality of
your life and health.
Once most people experience the difference of a life, free of nerve
interference and body malfunction, they are no longer satisfied to live
with, "the usual headaches" "normal back and neck pains" or "chronic
health issues" that accompany a body working under the control of a
diminished nerve system.
Once you know the difference, you don't want to go back to the way it
used to be.
Regular chiropractic checkups and adjustments when
necessary help you to keep your body functioning optimally and
expressing the best health possible.
As National Spinal Health Month comes to a close, this would be a GREAT time to get your
spine checked for vertebral subluxation to insure your family's health and well
being.
There is never a better time than NOW to take better care of your health. Start with a spinal health checkup at Branchville Family Chiropractic.
Give us a call to find out what a life, free of nerve interference can be like. We can be reached at (973)948-5556 or from our website at www.bfchiro.info.