Pediatric Chiropractic Care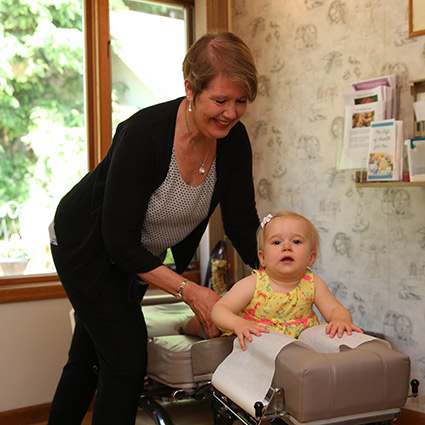 We feel that every child deserves the right to experience the full life expression presented to them by their innate intelligence. We accept kids for chiropractic care from the time they're newborns, so they can grow and develop with optimal nervous system function.
Our own children, Billy and Danielle, received chiropractic care on a regular basis growing up and continue to receive care as adults. We recommend for our practice members the same level of care that we follow for our own family: regular chiropractic check-ups and adjustments when necessary that result in vibrant health.
Helping Children to Develop Optimally
Pediatric chiropractic is a gentle chiropractic adjustment designed specifically for the unique needs of children, babies and newborns. Kids respond quickly to our care.
Our adjustment techniques are tailored to the individual child based on their unique subluxation patterns and their size. The force used to adjust a newborn, for instance, is akin to the pressure one would exert against a tomato to test its ripeness.
Our care is safe and gentle, and while adjustments are given for the correction of vertebral subluxation and not the treatment of diseases, we've seen many of our "ChiroKids" respond successfully to conditions such as
Ear infections
Failure to thrive
Feeding difficulties
Reflux
Seizures
Sleep difficulties
Injuries sustained in childhood sports can have an impact far into adulthood, particularly contact sports such as football and wrestling and repetitive stress activities such as gymnastics or even dance.
Sports participation can offer children increased muscle strength and endurance, cardiovascular fitness, coordination and social involvement. Yet, this rewarding physical activity also leads to falls, collisions, hard landings, concussions, sprains, strains and broken bones. This type of physical stress frequently results in spinal misalignment. Corrective chiropractic care when injured can not only bolster today's athletic performance, but reduce the chances of future degeneration and disability. Chiropractic care as part of an athlete's training regimen has been shown to enhance athletic performance and reduce the incidence of injuries from sports.
Dr. Greg has served as Team Chiropractor for several local High School sports teams, a local college soccer team and a local semi-professional football team. He also conducted a 2 year research study on the effect of chiropractic care on athletic performance in high school swimmers, which demonstrated that chiropractic care added to the regular training regimen improved the performance of swimmers over those who did not receive care during training. Dr. Greg states, "Chiropractic works and we can show it."
Top athletes know that to perform optimally, they need to experience the best in nervous system function. Most nationally-recognized teams and individual competitors receive chiropractic care on a regular basis, not only for injury rehabilitation, but to insure a physical body working at maximum capacity.
If your child is involved with soccer, baseball, football, hockey, dance, cheerleading, tennis, rollerblading or basketball, we encourage you to follow the advice of two-time Olympic triathlon winner Dan O'Brien:
You can't compete to your fullest if you're not in alignment. I compete eight to ten percent better from regular chiropractic treatment; it's essential for my training routine.
Get Started Today
If your baby or young athlete has never been checked for spinal subluxation, we encourage you to come in a for a chiropractic evaluation that could potentially change their life. We accept most insurance, and feature late hours and on-site X-rays. Contact us now for a convenient appointment!
CONTACT US »

Pediatric Chiropractor Branchville, Frankford, Newton NJ | (973) 948-5556