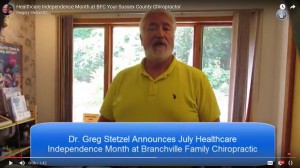 This week marks the beginning of Health Care Independence Month at Branchville Family Chiropractic and we are dedicating it to a group of people who have contributed to our independence, placing life and limb in jeopardy to insure the safety and security of our nation and the preservation of our values. This special group of people are our military veterans.
We are taking the time to thank the brave men and women who have served in our nation's military during the month of July and extending an invitation to come to Branchville Family Chiropractic for a spinal evaluation, performed at our expense. All active duty, inactive and retired service men and women from all branches of the United States Armed Forces – Army, Airforce, Navy, Marines and Coast Guard are invited to come to Branchville Family Chiropractic during the month of July to receive a complimentary Health Evaluation for the purpose of identifying possible chiropractic problems that could dramatically affect their health and wellbeing.
We offer this service to our military men and women to extend our gratitiude for their sacrifice in defense of all that we hold dear. We have long participated in the Returning Veteran's Volunteer Service Program, offering care for the first year following their return home from active duty. It is our hope that all veterans are able to enjoy life with abundant good health knowing that we've done our part to help make that possible.
To participate in our Veteran's Program, contact us through our website at www.bfchiro.info, by e-mail at info@bfchiro.info or by phone at (973)948-5556.
Save