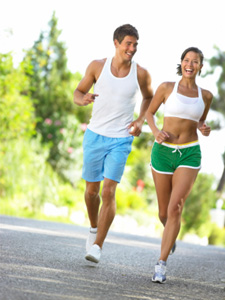 Let's face it…the world around us is full of opportunities for sitting. Children sit all day long in school. Adults work long hours at a desk. And when we get home, we like to relax in front of the television on the couch…while sitting.
When we sit, we're ignoring what our bodies want us to do—move! In fact, they were made for exactly that.
Here are a few tips to help you get moving this April!
Take the stairs. Do you always opt for an elevator ride? Whether you're at the mall, work or home, take the stairs instead of an easier route. This will easily add more activity into your day.
Turn television time into a workout. If you're going to sit and stare at the TV, why not stand and stare at it with some weights in your hands!
Find a friend at work who also wants to move more. The two (or several) of you can make a pact to have a "walking" lunch each day.
Spend time tidying up your home. You may not realize it, but doing so adds valuable movement into your day. Don't wait until the weekend to tackle everything—if you spend time every day doing laundry, washing windows or completing small tasks that add up, you'll be burning calories without feeling like your chores are impossible!
Pick an exercise you enjoy doing. This way, you're more likely to stick to it. You don't have to join any fancy workout classes or groups—adding a brisk evening walk around your neighborhood can make a world of difference when it comes to your health.