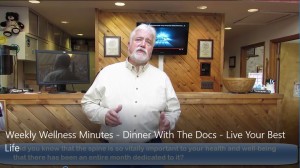 You're Invited to Dinner With The Docs!
Did you know that the spine is so vitally important to your health and well-being that there has been an entire month dedicated to it?
Yes, the month of October is Spinal Health Month in the U.S.A. and Branchville Family Chiropractic will be honoring Spinal Health Month with special opportunities for our patients, their families and friends in the Sussex County area to learn more about how the spine and nerve system protect and enhance their health.
To learn more, we invite you to attend our Spinal Health Month Dinner with the Docs program, "Live Your Best Life" at Yetter's Diner on Tuesday, October 17 at 6:30PM.
A reservation is required and seating is limited to the first 25 attendees so call or register online today. Registrations will be accepted on a first come basis.
We can be reached by phone at (973)948-5556 or through the Contact Us page on our website at www.bfchiro.info.
You can also register on our Facebook Events page at www.Facebook.com/BFChiro/Events. or go straight to Event Brite for tickets: Live Your Best Life Dinner
Your price of admission to this informative presentation is to bring a guest interested in improving their life and health.
We are dedicated to improving the health and well-being of our community and look forward to seeing you during Spinal Health Month at Branchville Family Chiropractic.
Can't wait?  If you're ready to find out how chiropractic care can help you to "Live Your Best Life" give us a call at (973)948-5556 or go to our website at www.bfchiro.info to schedule an appointment for a special Spinal Health Month Evaluation.
Save